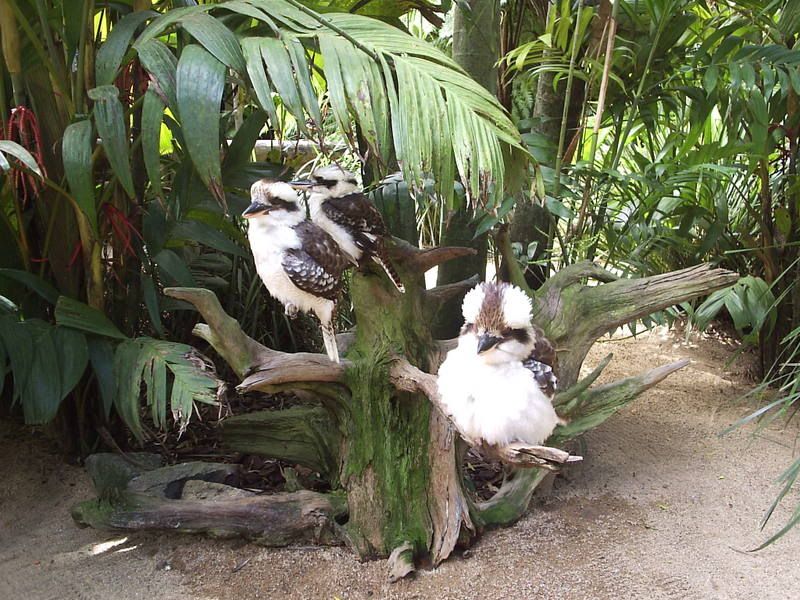 There is something about Australia which results in some people, mainly women, I think, to get two birthdays per year. Yesterday, for example, was the Queen's birthday in Western Australia. The Queen has another birthday here in Queensland and for all I know a third birthday that she celebrates with friends and family... not that Ozzies aren't friendly. Me. I had one birthday in May (in the US) and a second this weekend. What concerns me about these birthdays isn't the extra cake: its that I'm not sure if one ages faster as a result.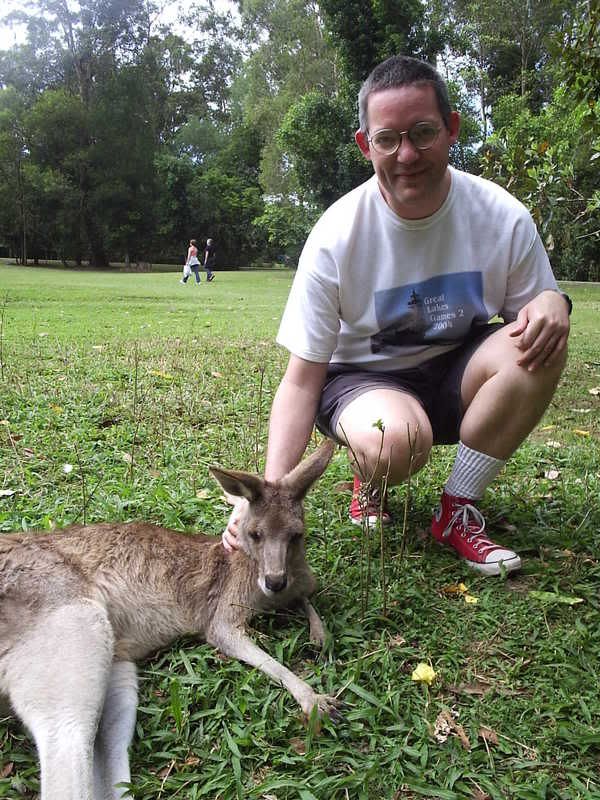 Anyway, for my birthday Kevin took me to The Australia Zoo. It wasn't the celebrity rub that he'd planned as unfortunately Steve Irwin was killed while K and I were in the US last month. Within the last few months the Australia Zoo also lost their other famous resident, Harriot, a Galopogus tortoise who "sailed" with Charles Darwin himself! Harriot has a very simple memorial. Her yard and sign remain while inside a silly faced ceramic turtle pot sits waiting. Steve has memorials at the gate, outside the crococellium, and an AV production prior to the big croc show. I was touched by both responses and wished I could have had only one birthday this year- I could have seen them both.
The Australia Zoo (as it should) has a fabulous collection of Australian wildlife. I saw my first Tasmanian devil (pictured above). Yards of wombat- including one very full pouched female. Oodles of koalas- virtually all asleep and most with babies. Birds, snakes, and plenty of crocs. For a little spice- there are very attractive Tiger and Asian elephant exhibits and a posse of "naughty" American alligators. ??? I can't say I understand any of this- though it interested me that the AZ has taken a page from Dreamworld and keeps the tigers "caged up" with their keepers. The tigers sleep and the keepers trade jokes about Siegfrid and Roy.
I really enjoyed the Snake, Bird, and Croc show at the crococellium (it was the only show we saw. I might have enjoyed more shows had I seen more!) The snakes were OK- but the bird show was fully flighted! Soaring through the stadium: cockatoos, lorries, a wedgetail eagle, a kookaburra, and a magpie! (No photos.) The croc show was appropriately cautionary- you know, "never smile". The croc man did a fine job, though he was bit more weenie about the breeze on his fingers than I'd have expected. I'm sure Steve never sweated out loud before the audiance.
I had a great time. We finished the day with cake and candles as required...and did it all again the next day for ole Queenie.