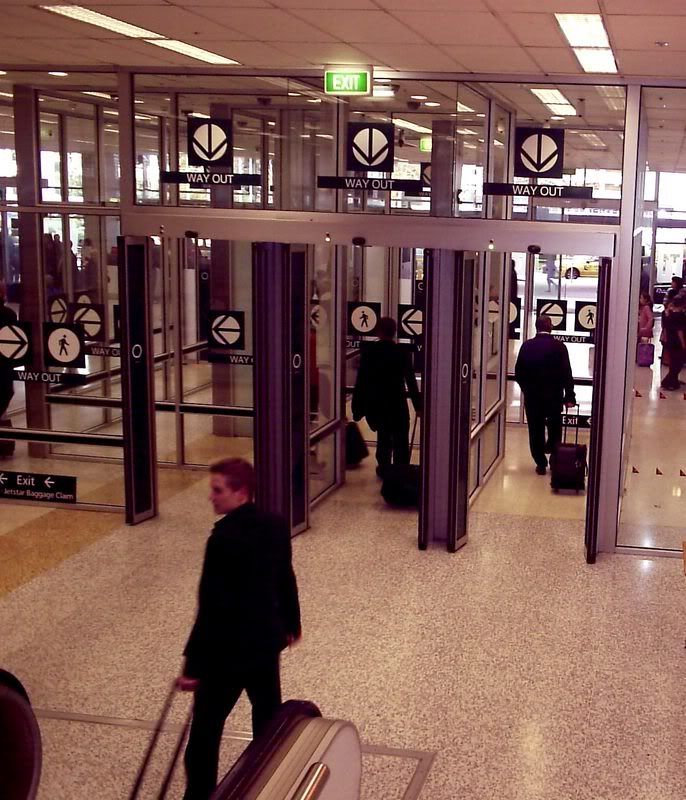 This installment collects 3 days in Victoria: the rainy Friday we arrived, the glorious Saturday we drove down the Gippsland Highway, and the sunny yet tumultuous day we spent exploring Melbourne. Upcoming- wild kangaroos (finally), fairy penguins, misplaced buses, and our life of crime. Much of this is without photographic documentation. You'll have to trust me. It might not be easy.
Our flight to Melbourne was uneventful. Those are the best. I watched "Blades of Glory" and wished it was "Napoleon Dynamite", "Old School", or "Elf". I must say I did like the peacock inspired skating costume, but the story left much to be desired. After, however, I discovered that this was was 40th anniversary of "Sgt. Pepper" and I could listen to the album on channel 12.
We arrived to a drizzly, grey Melbourne and picked up our new Elantra without incident. (They offered us something bigger, but we had JUST figured out that the bags fit in relatively easily if you just unhooked the silly back window ledge- so we stayed with the familiar. Elantra. This time in white.) It was probably about 3:30 or so. We had directions from the Avis man. We had a humungo refedex (city street map) of Melbourne. Can someone explain HOW it could take 3 hours plus a stop at McDonald's to find our hostel in St. Kilda? FRUSTRATION.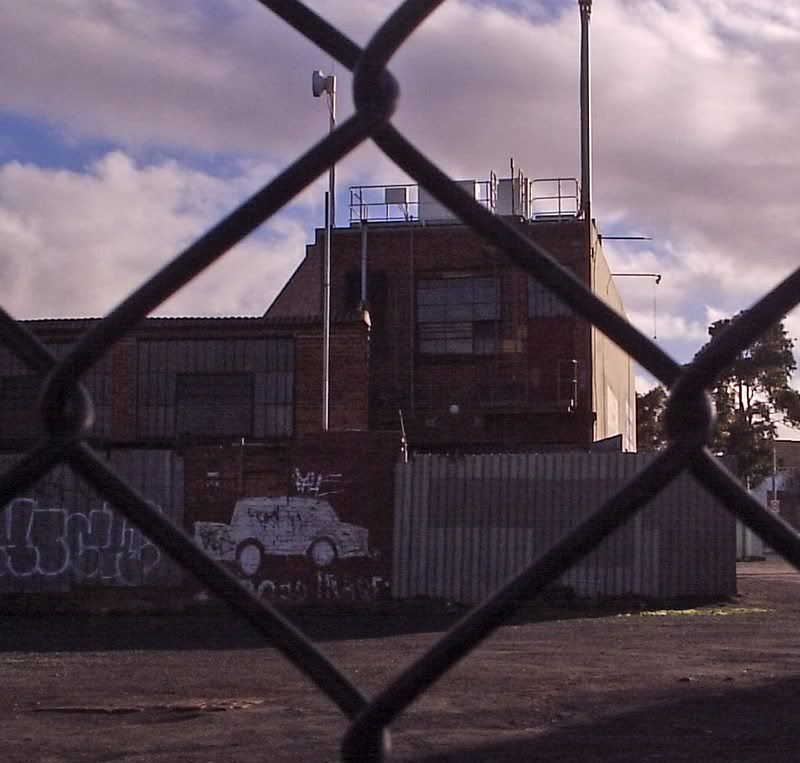 The hostel. Cooee. Very nice. No place to sit down in our room, but we did have a flat screen tv mounted on the wall. And, a very, very, very nice shower. We appreciated particularly the way the water stayed in the shower rather than covering the floor of the bathroom.
Saturday morning we ate breakfast at "la kitchen". The muesli was great! but, Marianna was very disappointed that her eggs were covered with stuff- herbs and onions. And, the coffee was undrinkable. I learned this trip that it is very hard to find coffee- just plain coffee in Australia. Espresso, yes. Coffee, well, no. I might have learned this earlier if I actually drank coffee. Then, a short drive through St. Kilda (really just turning around- but it took us by Luna Park) and we were off! Our destination: Phillip Island!
I was prepared to stop for tourist activity along the way- but there wasn't much to interest folks. Plenty of nice green (green, how odd!) farm scenery. You could eat at the little diner at the dairy farm. You could tour multiple wineries. We did neither. I did, however, pull over for the
Giant Worm
Museum and Wildlife Wonderland. Kevin and I had done this. I thought is was definitely worth seeing. Unfortunately, neither my mother nor Marianna thought that $12.50 was a reasonable price to see giant earthworms....so it was just Elaine and I.
The animal park is a bit small and twisted BUT you can pull up trap doors to watch wombats sleeping in their burrows! Identify how fat a dingo can become when exercise restricted and over fed. Watch the koalas MOVE! and practice not seeing them in trees marked with signs saying look up to see the koala. Most fun, however, are the BIG RED kangaroos. These kangaroos WANT to eat the food you can buy. They meet you at the gate and keep you there until you put out. They may be petitioning to carry weapons in their pouches. Elaine and I had a very, very good time. Good enough to not be sad that there were no more giant earthworms in the museum. They are an endangered species and can't be kept any more. We sat down and watched a bit of a video about the worms. Watched an Australian fellow dig through the dirt to find one, then try to tease him out of his burrow. These are big worms. (Not as big as the one in the picture, however.) They're as big around as a man's finger and when draped across his arms extend at least to the knee on either side. You gotta love these worms. To be honest, I think it was better to not have the worms there than to stand scratching your head and frustrated trying to identify a worm or piece of worm in the super-big, ant-farm-like, giant worm home.
Please note: I did not take ANY of these photographs. Thank you google!
Lunch was a bit of a challenge. We finally got some at our next place of lodging "A mazin' Place"...something like that. After, Marianna took a nap while the three of us set off to buy our tickets for the Penguin Parade. We figured we were 20 to 30 min from the site. Therefore, we were not surprised to find it took us an hour. Not surprised because we knew when we crossed from Phillip Island back to the mainland that we had missed a crucial turn. So, we picked up our tickets and watched a couple use the $5 camera thingy to spy upon the hundreds of seals out on the little island offshore.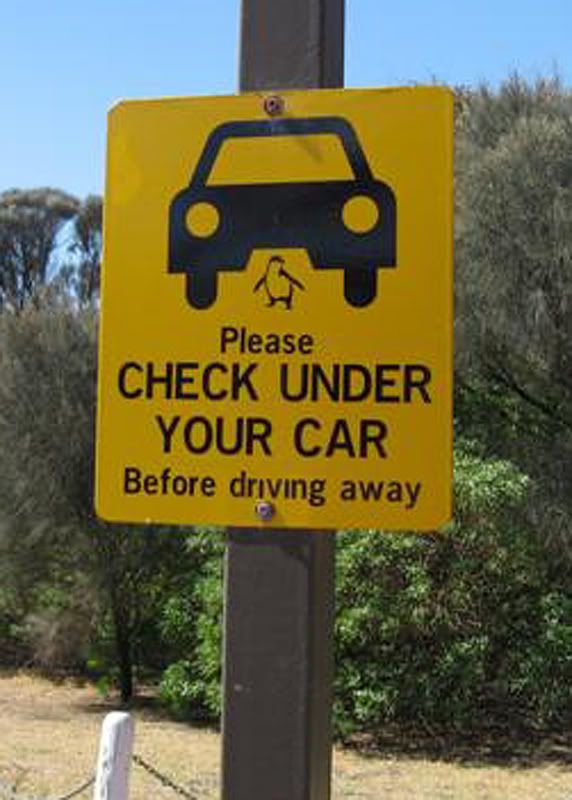 The Penguin Parade
.
I can imagine how they get those little penguins in their uniforms and fezzes..but how do you teach a penguin to play the trombone??? Seriously, as dusk approaches the big doors open and throngs of people march down to large concrete bleachers. There you sit with your behind going numb while brown jacketed rangers keep an eagle eye on the crowd watching for ANY sign of a camera. NO PICTURES! No pictures of the penguins coming in from the surf. No pictures of the penguins stumbling back into the surf. No pictures of the penguins making their way back to their burrows along the boardwalk. No pictures of penguin family reunions. No pictures of your friends or family chilling in the bleachers. NO PICTURES.
I have no pictures from the penguin parade. (I even had to borrow the sign picture from a fellow blogger!) This isn't true of everybody. I observed several folks sneaking a shot in. It was a bit of a game for them, I think.
Anyway, just as the day gets dark enough that you can't be sure what you are looking at, at the edge of the water you see (far off at the edge of the water) a flash of white. Then it grows bigger (more penguins massing) and then it disappears (they all run back into the water.) This is repeated. Again. Again. Until finally they get their little courage up and run up the beach. Run. Run. Run. Well, as much as a penguin runs, up into the grassy dunes. Then they waddle on with first one and then another veering off to the little lane that leads to their personal burrow. A mate may be waiting. If she/he is, she/he is standing outside crying out "It is time for dinner! Where have you been? Do you know what time it is?" You don't see much of this, however, until you give up on the frigid vigil and walk back to the museum/gift shop. Then, you can see them only feet away marching onward to their own little cul de sac.
It is fun. Squinting to try to make out the penguins massing. Then watching their dash. Especially when they hit a hole (must go down and then climb back out) or a log in the way. (What to do? What to do? Over? Around? Once they figure it out they all do it the same way. I'm sure it was there last night, but that doesn't speed up the decision process ... or I guess it doesn't eliminate the quandary.) The best thing is that when you've given up and started back up the boardwalk, that is when the experience gets really good.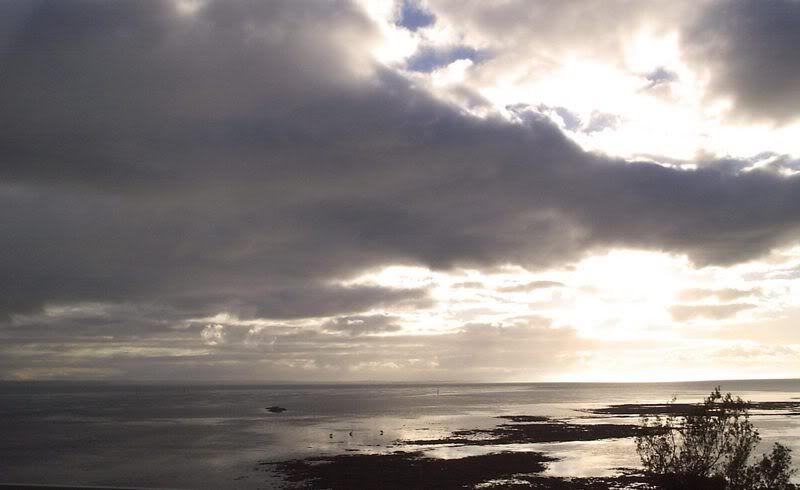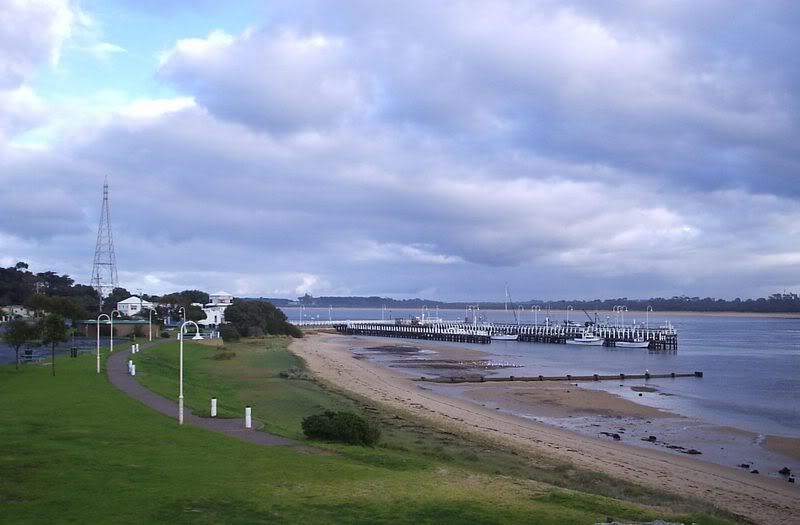 Sunday we packed up and moved out. Back to Melbourne. We found a fabulous bakery in the little town on the mainland (San Remo) where the bridge to Phillip Island is. We all ordered something, got more, and then ordered another round to take back to the hostel (COOEE) for tomorrow's breakfast.
Not far along the road back to Melbourne we saw them. A whole field of kangaroos! Lounging. The animal had eluded us throughout the Northern Territory. Here they were! Our trip was complete!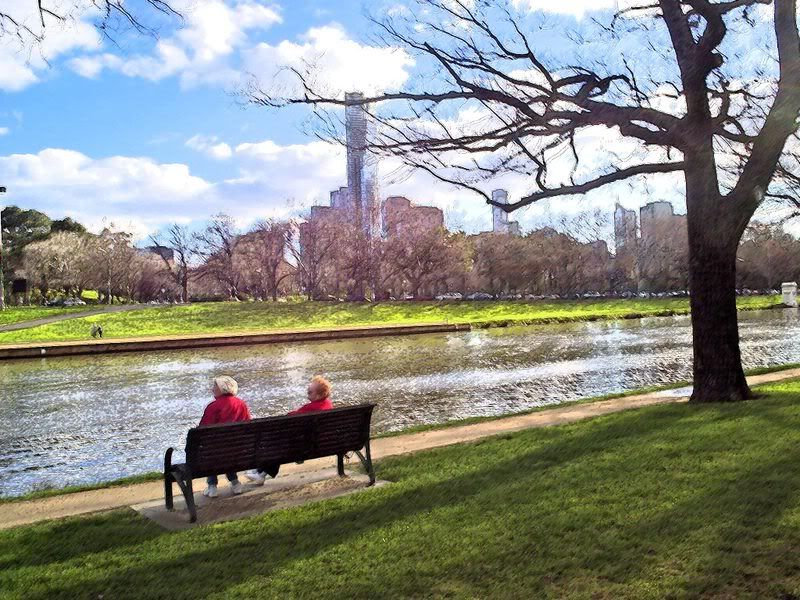 The plan for Sunday in Melbourne was to take the free tour bus to see the major sites. We successfully navigated the tram and got off appropriately across from the Anzac Memorial...the something of Remembrance. (Isn't that ironic? I can't remember. Oh wait. Tomb! Tomb! I think that is right.) But, we waited for 1/2 an hour to catch the bus that was to come every 15 min. Finally, we decided to see the memorial and try to catch the bus at the next stop just on the other side of the Botanical Gardens.
In the end, we had a humongous bowl of soup at the gardens and my map reading took us the longest route possible through the garden. We FINALLY found the right bus stop and got on with only about 20 min more of free tour left. Just enough time to take us as far into the city as it went - as far away from the hostel as we could get. We did it any way. This time Elaine read the map and we made our way back to St. Kilda Road and found the tram we needed to get "home". They were running a special. That is all I'm going to say. You never know when a transit cop may be reading...
Everyone was SHOCKED when I chose to take a walk when we got home. I wanted to take a couple of photos of Luna Park. I think it is cool...and I like to walk.
And, this, doesn't belong here...but I forgot it earlier. We left Melbourne as we found it. Gray and Rainy.