The first Australian Gathering of Friends (name to change but no one is innocent) was held on the Euroka Horsefarm/Homestead/Ranch in the Blue Mountains of NSW. Five families. A total body count of 10 adults and 3 children and umpteen meeples. I was looking forward to a respite from the heat and I was well supplied with books, magazines, journals, music, sunscreen and my Italian parsley plant. Kevin brought the games.
Our 6 AM departure occured at 8, or maybe 9:30. A fine ride through the countryside of Australia- sun blazing, windows wide, and the sweet scent of burning oil! Our chariot! Our Steed! The dubiously accurate and maddeningly detailed "where is" map told us it was roughly 1000 km (935.95) to Sydney which they predict to take 10.22 hours. Early on it did not look good. Constuction ahead, we crawled but mostly stopped for 45 minutes.
Traveling South.
Lunch in Byron Bay by the water. Spied the Big Banana in Coff's Harbor- surprisingly it lies on its side above the shop underneath. Generously I spelled Kevin driving so he could rest. When my too warm body turned toward sleep and the car turned toward the rumble strip on the left shoulder, I pulled over at the next rest stop. Kevin rose and we watched older women in simiar flower print dresses descend from the above ground "outhouse". Ah, the glamour of traveling down under. Kevin, refreshed from his 15 min nap drove on.
Supper was quick at McDonalds. Rest stops to fill up on oil, petrol, and water (for us!) were not excessive- though some may have thought we overdid the pouring of oil onto the pavement at the BP a bit - yet it was close to midnight when we arrived at Pat and Fluers. Drive time >> 10.22 hours.
How does "where is" figure time??? No where in their data bases must the stop lights and 60 kpm speed limits be logged. There is probably no room- what with holding onto every detail of name change for each road and highway of Australia!
Our trip onto the mountains from Sydney took (1 hour 46 minutes), hmmm, 27 +/- hours. Can't fully blame "wi" for that, though. Had to work out a little problem with a broken pipe in the engine, also. Big thank you to Rob.
What to say about the Mountains. It was such a thrill to be ascending the cooler tree lined roads to our destination. The Homestead was located on a big horse farm. This fact made for an interesting tennis game, I'm sure. (Hmmm- that may not be clear to the reader. There was a NEW tennis court behind the Homestead house- but a lack of diligence in keeping gates closed had resulted in the court being peppered ("poopered?") by horses.)
I really enjoyed walking and even got Kevin to come out one evening. We walked through the field down to the "Six Foot Trail"- which is neither 6 feet in length or width. Perhaps in the fifth dimension? We walked through fields as dusk approached. Spying rabbits and being scrutinized by cattle. Walking forward to see what was over the next hill? When the answer was a sign advising us the trail continued for another 35 KM we turned around. Here is a photo, though. Walking back toward our "home" along the "Six Foot Trail".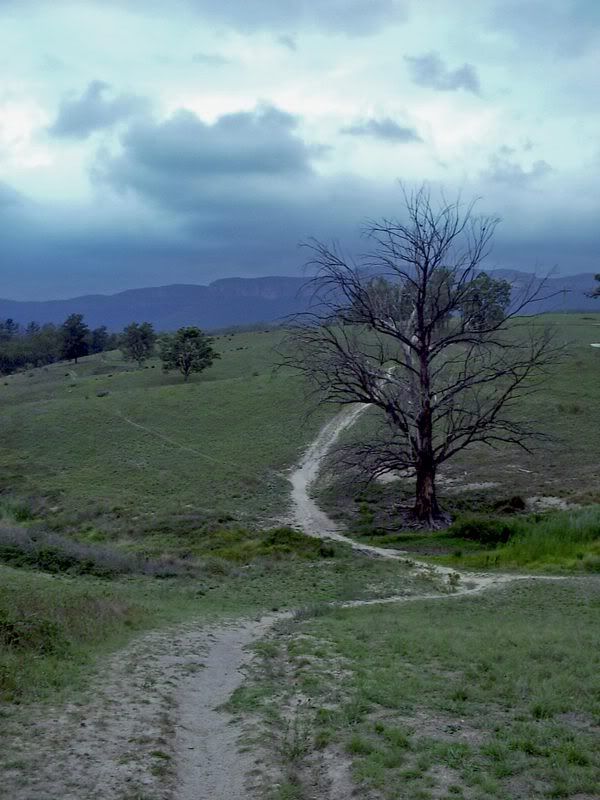 Wildlife: We had one night time car trip on the first day (from the grocery in Black Heath) and, unfortunately, hit a wallaby. John and Bhuva had a much better wildlife adventure and stopped to watch a wombat progress across the road (sans tire (tyre) tracks.) Bhuva and I and Tara (6) spied a kangaroo hopping across the field on one of our morning walks. Our horse ride included viewing a kangaroo and half-grown joey bounding away from us. And, we probably saw at least 4 other kangaroos/wallabys in the ditch or crossing the road while traveling by car during daylight hours. The mountains were full of birds, as well. Especially raccous were the sulfer crested cockatoos- always traveling in groups and always screaching about something.
Games: were played. Kevin and John could tell you more. A loving wife might put a link to said husband's blog here. We'll see.
The long ride home: We made our first stop not far from Euroka at the Northern Extension of the Sydney Botanic Garden (or something like that)- Mount Tomah Botanic Gardens. Big place. Lots of plants. The Italian parsley LOVED it. OK. I'm lying. The parsley had to wait in the parking lot underneath the car. Kevin and I, however, did enjoy strolling through the grounds- which seemed to get bigger the longer we were there.
Our overnight destination- Port Macquarie. Found the hostel without incident and were astonished to find we'd be spending the night in a large, overheated closet. Oh, did I say large? We could open the suitcase most of the way. Our room was beside the phone. ("HELLO. WHAT'S HAPPENING? I'M..." Must have been one of those tin can phones with a fray on the string. Really needed to shout to be heard.) But, seriously, we were tired and some of us grumpy. The bed was firm enough AND there was topless sunbathing at the pool til 11PM.
The following day's excitement was to be swimming in the dolphin pool in Coff's Harbor. We saw billboards on the way down! Got there about 11. Only 2 hours to wait to see the show and maybe get a kiss from a seal!! The dolphin swim, $200, didn't happen for us. And, now I ask- why is it significantly less for a dolphin swim if you are a child???? I suspect they get just as much time IF NOT MORE with the dolphins as do adult swimmers. Hmmmmm. If it is just an issue of water displacement- you know, we're experiencing a record drought here in Australia and maybe there is a concern about replacing pool water that gets splashed out by the swimmers- then how about a price by weight? I'd get a preteen price then, for sure.
Otherwise- the trip was HOT and LONG and the price of the speeding ticket $231- which we assumed is priced to exceed $230- EXPENSIVE. Oh, that doesn't count the potential fine (all of these with double demerits- the bonus of traveling on a holiday weekend- in this case Australia Day- arrival of the first fleet.) we MAY have gotten in Sydney when we accidently found ourselves on the t-line. (That name may be wrong. It was a special road just for buses FILLED with camera and posted signs about big fines and bigger demerits. I think it was still under construction and not yet in use- so I'm hoping that they aren't policing it yet. Kevin just hopes they can read the expression of the drivers' faces- where his will surely read "Help! How do you get out of here!")
Did I say the drive was hot?
Oh, and my name for the group was chosen. So, from now on this annual gathering will be known as "On the Beach".