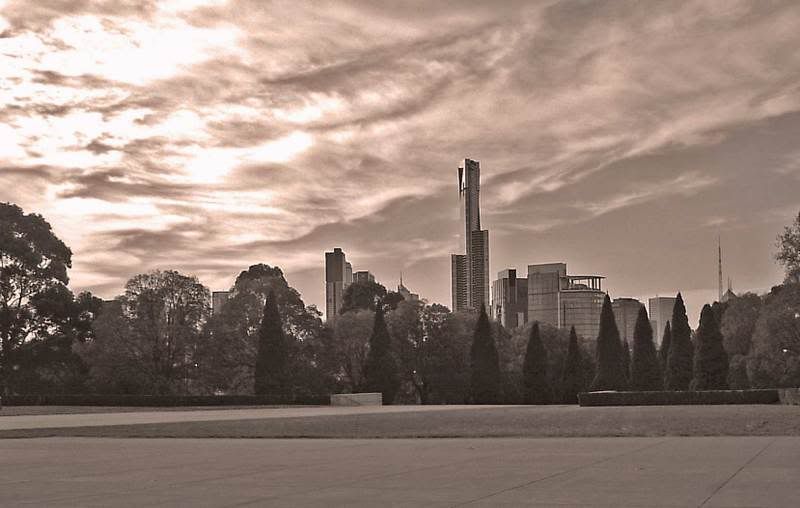 OK. It was February; we took a plane. But, the title is catchy. Something to hum along to whilst pondering a way to fit whilst into a sentence and appear more Australian.
The last weekend of February Kevin and I flew down to the "Spa Capital of Australia" about an hour north of Melbourne. (Hint: If you want to speak Australian, you don't pronounce the "r" in Melbourne- MEL-BEN.) Kevin won the "Champion of Champions" competition at New Horizon's last year and his prize was this weekend away.
We left home about 5 AM to catch our flight South. Picked up a rental car (wow!) and drove out to Daylesford arriving early in the afternoon. We had only a couple of things we really wanted to accomplish on this trip- going to Hanging Rock, enjoying a spa bath, and touring the lavender farm. (OK. That was just me. Well, I guess the last 2 were just me. Kevin wasn't expecting much from this trip- but he really enjoys Hanging Rock.)
So, we started out with Hanging Rock. If the name sounds familiar but you just can't place it, think checkered table cloth, ants, missing school girls.... Early in the last century the novel, "Picnic at Hanging Rock", was written. It got a lot of buzz as people questioned whether it was a true story about how several school girls went missing on a St. Valentine's Day picnic in 1900- Boom. They were just gone. A few days later - wait- it was made into a movie directed by Peter Weir (who also directed "The Truman Show". This came up in last week's Big Quiz- the 40 question trivia quiz in every Sunday Mail. Kevin won that quiz. It was rather heavy in film questions and decidedly lacking in anatomy or disease.) OK. Here's a link:
http://www.imdb.com/title/tt0073540/
I won't tell you more of the story in case you want to see the show (or, god forbid, read the book). (We watched the film a few years ago. Actually, I quit on it. Kevin finished it and filled me in on the story and all the symbolism and nuance later. He found it more interesting to read about than to watch. But you- maybe you'll like it. Terry (who games and takes the quiz each Sunday) says we needed to see it when it came out. He thought (thinks?) it is quite spooky. I think wearing those long skirts and full sleeves in this heat is pretty spooky. But, I stray. We enjoyed climbing to the summit of hanging rock- which is a pile of rocks- big rocks- where we, of course, had a picnic.
On the way home from Hanging Rock we followed signs to one of the local mineral springs. (This is the claim to fame in the area. Lots of mineral springs. The spas are a product of the springs.) We filled our water bottle and took our booty back to the room...where our water became ever more cloudy and rusty looking. It took a certain courage to drink that water. We haven't died yet.
Otherwise, Saturday evening was filled with very slow service at a Chinese restaurant and my first opportunity to watch Australian TV. Wow. There's some bad stuff out there. I can't believe I tried to watch the show where Australian celebrities compete in training their dogs...
Sunday, we walked down to the Sunday Market (not the Tuesday market or the every-other-Saturday market) - a big flea market with plenty of fresh produce but no German games. Then, walked around town- past the convent that has been turned into an art gallery, restaurant and bar and through the botanical gardens. Here it was that I learned that regular qi gong practice does not prepare a person for climbing up and particularly down a narrow winding stairway. Ouch.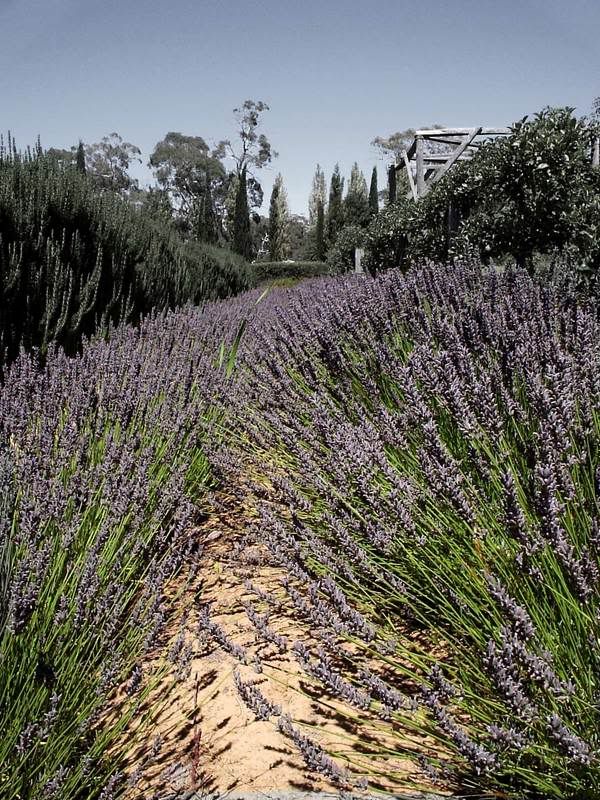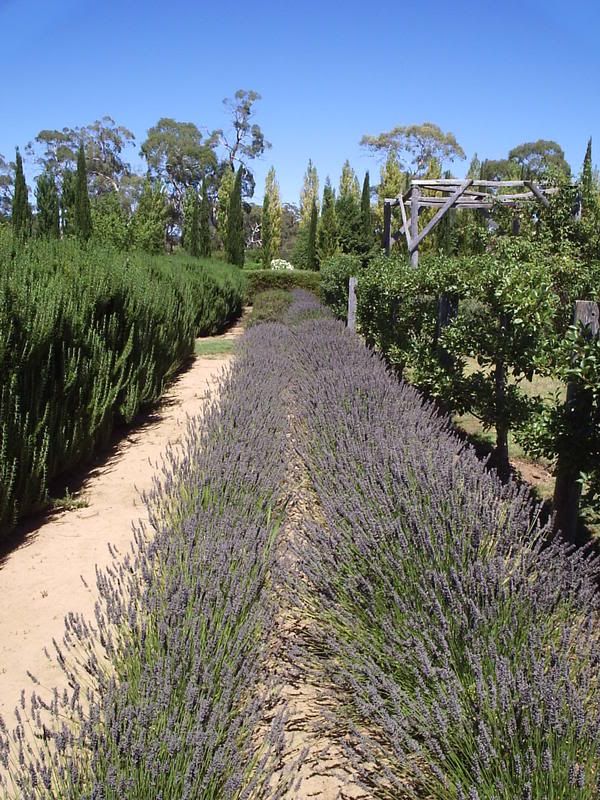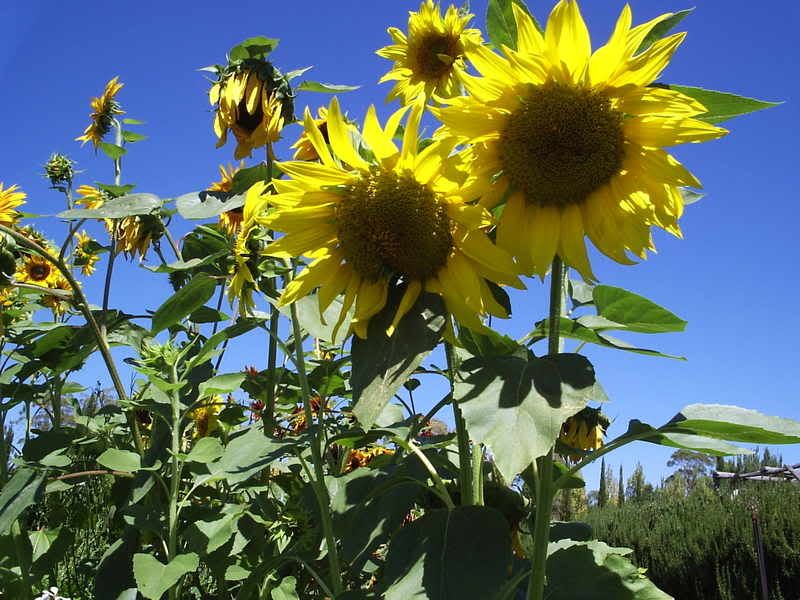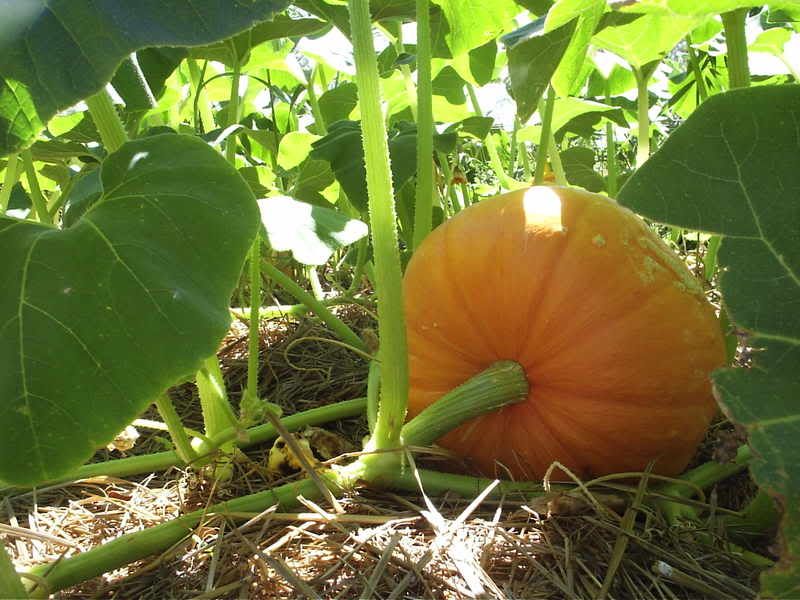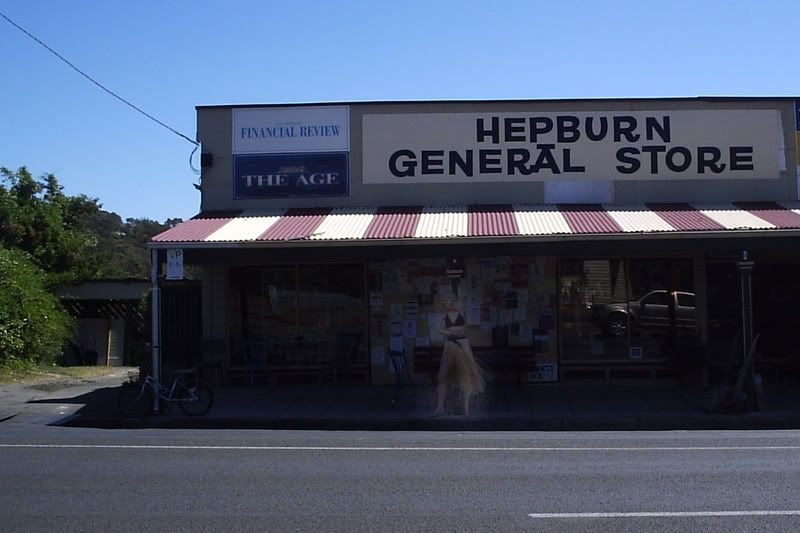 The lavender farm was fun. I think I even saw Kevin smile. It was far too late in the season for much lavender to be in bloom- but there was a little. We wandered through gardens where I was reminded it was really fall- see pumpkin. We fed scones to the donkeys. We played boccie ball. (I lost.) Lunch was in Hepburn Spring at the Chowder Pot- a fun spot across the street from the general store. After, we made our way to Hepburn Spring where we'd already learned the public spa was closed for renovation- til sometime 2008. This was the end of my spa dream, by the way. The public spa costs $8. The next cheapest was $30.
Finally, we walked around the lake. Not a big lake but a pleasant enough walk and, I think, it must be THE PLACE for practicing "Downward facing Dog" (http://www.yogajournal.com/poses/491_1.cfm#). Evidence- see sign found along the path.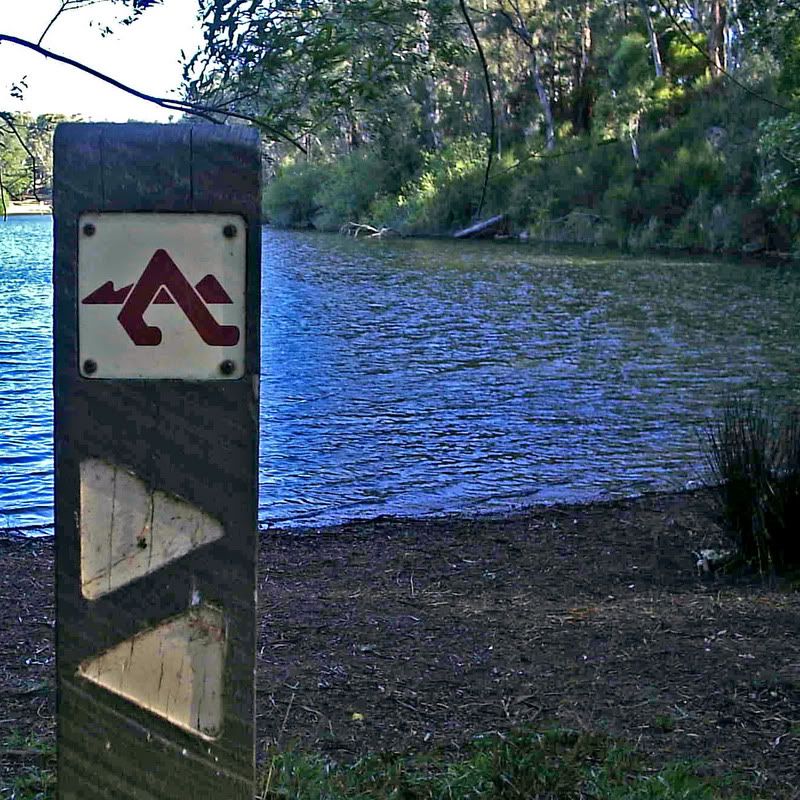 What else COULD it mean?
Hanging rock had been maybe a 45 min drive from Daylesford and much of the way was punctuated by signs suggesting a slower speed between dusk and dawn because of Wombats! Cool! Sunday evening we hustled out to the car and went cruising for wombat. We even turned down a dark road leading into a national park and crept along-Kevin saw something hop. Obviously not a wombat. I didn't even see that much. Very disappointing.
Monday we refilled our bottle from a cleaner looking spring and took off for Melbourne. We arrived in time for lunch. (The bottle filled more quickly than it sounds here...I've left off breakfast, bathing, and buying chocolates for Steve and, oh yeah, ME driving. Woohoo! Power steering!) We spent the afternoon in the Melbourne zoo. Zoo highlights: fabulous butterfly aviary and a pretty great bird one, too. Very, very cool decorations. That annoying pinging sound you hear everywhere is a bell bird. I think that's right. There were also 3 tiger cubs playing. It was a big zoo and we really didn't see it all before closing at 5 PM. From there we drove into town and strolled (hustled) through the botanic garden then drove back through town to the airport.
I had a great time. Kevin, less so. He found Saturday to be difficult because it was a bit chilly and he hadn't packed a jacket. He had laid his belt out with the clothes I was packing- which I thought was just him laying out his clothes- getting ready for the morning. But, I was SUPPOSED to think he wanted me to pack it. Anyway, he couldn't wear long pants, either. Good thing he likes me.
NOTE: The small photos are clickable, if you want to see a bigger image. The slide show... is problematic. HELP!! OMG it worked! Yes! Yes! Yes!